Maintaining the Condition of Your Roof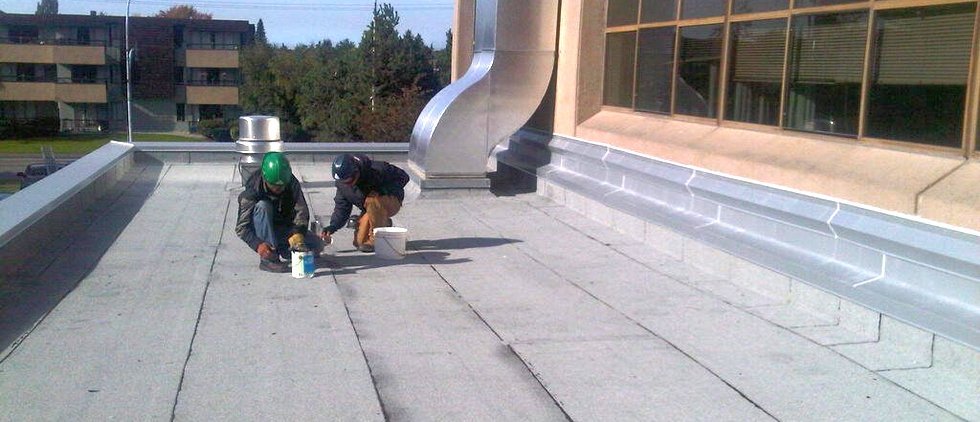 Commercial Maintenance Program
The life expectancy of a commercial flat roof is proportional to the maintenance done on it. All the roofs we maintain are inspected semi-annually and after major storms. General flat roof maintenance:
Ensures ponding water clears, typically within 48 hours.
Tests all flashings around all of the roof.
Repairs lap seams in base flashings. 90% of all roof leaks and failure occur at the flashings.
Keeps the roof drains free of debris. A clogged roof drain will cause water to pond, leading to increased "dead load" weight on a building that may not be engineered to accommodate that weight. Additionally, ponding water on a roof can freeze. Often, water finds its way into a flashing seam and freezes, weakening the seam.
fixes blisters (delaminations) or creases that may not yet be leaking but will leak over time.
Applies roof coatings as needed to fix leaks and extend the life of all types of flat roofs by preventing degradation by the sun (ultra-violet radiation).
If requested, Infrared thermography can be used to take pictures of your roof at night to find trouble spots. When the roof is cooling, wet spots not visible to the naked eye store heat and so continue to emit. Infrared cameras reveal heat trapped in wet insulation as well as gaps in insulation that allow heat loss.
Residential Maintenance Program
We offer a simple solution to extend the life of your home's roof. Our professional roof inspection and maintenance:
Checks all flashings and ensures they are properly secured and free from damage and cracks
Checks and seals valleys
Reseals plumbing vents as necessary
Cleans gutters, eaves, and drainage systems
Removes unwanted moss or other growths
Disposes of branches, sticks, and other debris
Surveys the roof for missing, damaged, or curling roofing elements and replaces when needed

Olympic Roofing knows how important it is to maintain the overall integrity and life of your roof. Our knowledgeable and helpful staff are ready to work with you to develop a Maintenance Program at a price you can afford.